NEW ABC Reading Eggspress is here!
The new and improved world of ABC Reading Eggspress provides a more structured, enriching and rewarding learning journey for children aged 7-13.
If your child has already made progress in ABC Reading Eggspress, they will automatically be placed on a lesson that accurately matches their current lesson in the Comprehension Gym and a spelling lesson that matches their current grade level.
Simpler navigation with iPad and tablet compatibility
The new ABC Reading Eggspress is now compatible with the iPad and other tablet devices, with improved navigation to allow direct access to all of the learning areas. This new format makes the learning journey more straightforward and direct.
Click the highlighted menu items to learn more.
English Skills
Stadium
Lessons
Library
Targets
Apartment
Arcade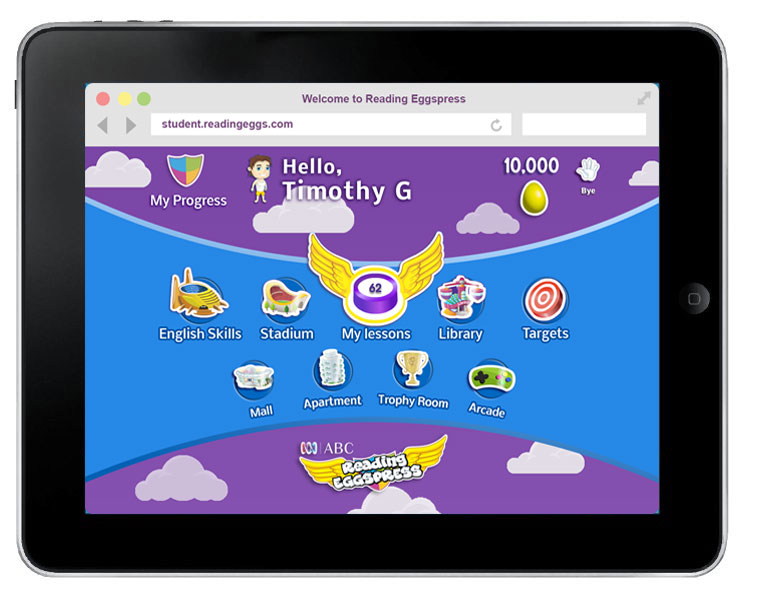 Structured comprehension lessons
ABC Reading Eggspress now includes 220 structured comprehension lessons to help your child transition from ABC Reading Eggs with greater ease. The lessons are designed to teach children a range of comprehension strategies needed for school, and increase in difficulty as your child progresses.
Like ABC Reading Eggs, each lesson follows a sequential map-by-map format to help your child stay motivated to progress. The lessons use a balance of carefully levelled literature and nonfiction texts, and include pre-reading activities, interactive quizzes and exciting rewards like trading cards and golden eggs.
NEW English Skills section
ABC Reading Eggspress also includes an exciting new English Skills section, with 216 spelling lessons and 120 grammar lessons coming soon.
The NEW spelling lessons will teach your child to recognise common spelling patterns, generalisations and strategies using a combination of videos, interactive activities, rewards-based spelling games and hundreds of printable worksheets.
Hundreds of new library titles
The ABC Reading Eggspress Library now includes over 2500 e-books covering a wide range of genres to suit children of all ages and reading levels.
ABC Reading Eggspress testimonials
"The library is such a fantastic feature – the selection of books, the quizzes and rewards – JUST FABULOUS!" – Kim W.
"My son cannot get enough. Before, he would never even look at a book, let alone read it! Now he pesters me to get onto ABC Reading Eggspress so he can read another book!" – Jennifer P.
"My daughter loves ABC Reading Eggspress, especially the multiplayer arena where she can play against other children from around the world." – Carla M.
Technical Requirements
A high speed Internet service (an average lesson will use between 30–75 MB of Bandwidth)
Operating Systems:
Windows 7+
Mac OS X 10.6+
iPad 2+
iOS 6+
Browsers:
(For best performance we advise having the most recent version)
Safari (requires Quicktime for sound)
Firefox (requires Flash for sound)
Google Chrome
Internet Explorer 10 and above
Android
Supported on Samsung Galaxy Tab 2, Galaxy Tab 3, Nexus 7 and 10 running OS 4.1, Jelly Bean or later
Must use Google Chrome browser
Not supported on Dell Venue 7 and Kindle Fire tablets
Access to the following URLs is required:
*.readingeggs.com
*.readingeggspress.com
new.readingeggspress.com
students.readingeggspress.com
public.readingeggsassets.com
assets.readingeggs.com
books.readingeggs.com